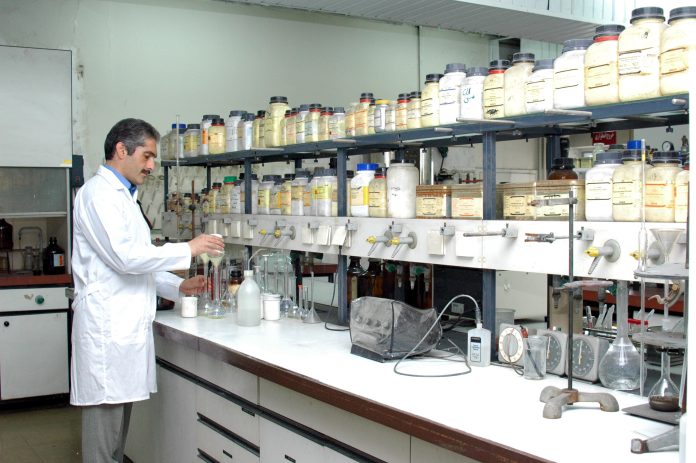 Quality control (QC) is set of procedures intended to ensure that a manufactured product or performed service adheres to a defined set of quality criteria or meets the requirements of the client or customer. The responsibility for these affairs is to monitor and control the input raw materials, the production process. The executive operations of the workshops and meet the customers' satisfaction, as follows:
1. Product quality control unite
2. High-quality control unite
3. Laboratory unit
4. Quality Assurance unite
Casting quality control section
    This section is in charge of controlling and monitoring  the  operation quality of the  production process in the cast house, the recording and isolation of precise monitoring products such as charge, priority of additives, precise control of products analysis with assigned standards according to customer`s request, monitoring and control in cutting and packing workshop.
Product quality control unit
This section is responsible for controlling and monitoring the correctness of the quality of the work performed in the process of production in the cast house, moreover the entrance and exit (input. output) of the workshop and also all parts of the company.
Weighing
This section is responsible for weighing all input and output materials and products of the company as well as part of materials applied inside the company.
High quality control unit
  This unit is responsible for controlling and inspecting  input raw materials , matching the raw materials to the company standard, controlling of production process in pot room , anode manufacturing , baking and Roding.
Anode quality control
    This unit is responsible for controlling the anode production process at different stations ;Pressing, Baking, Cleaner, Roding, as well as raw materials include: Petroleum coke, Bitumen (HSP), Anthracite Foundry coke, Bitumen LSP.
 Raw material quality control
      This section is responsible for inspection and controlling of all inputs materials into the company, sampling and technical commenting on the results of the samples which are sent to the Iralco Central Laboratory, as well as testing the specifications provided by suppliers of raw materials, the commercial department and their compliance with confirmed standards of the company.
 Rodding quality control
   This part in addition to checking the entrance anodes to the workshop, is responsible for controlling the stub process and iron casting.
Quality control of pot-room
    This part is responsible for monitoring the process of production in the pot-room, such as reduction cells production process, raw materials,  energy consumption, measuring of the anode voltage drop, cathode and joints, pots input and output, as well as providing analytical reports of the pot-room workshop.
Control Laboratory Unit
     This unit is equipped with modern and advanced equipment, which is responsible for testing and analyzing the input raw material t, the final products such as 1000 and 50 pounds ingots, billet and slab.
Central Lab Includes Four main sections as follow
1. Quantometer section
   This section is equipped with modern and advanced quantometerics related to aluminium, iron and copper with turnery and sampling machine. This machine precisely analyzes all, aluminium, iron, copper alloys and casting sample inside and outside of the company.
2. Chemistry and chemistry-physics departments
   These two sections are equipped with different laboratory equipment such as atomic absorption, carbon analysis device, Sulfur, viscosity measuring device, spectrometer and various devices for bitumen analysis, coke, cathode, bath and anode and air permeability, thermal expansion, compaction test, and determining of bitumen softness point.
3.  X Ray section
    This section is equipped with two devices (XRF, XRD) which analyze all samples of the raw material during the production process.
4. Granulation section
    This section is used for granulating of various samples equipped with Crushers, Vibrators, and sifter with different meshes. It is noteworthy that all chemical test and metal analysis and raw material used in the new plan are also completed in this laboratory.
Quality assurance Unit:
An external review system and a series of auditing procedures that are conducted by individuals outside of production process, execute planning, organizing, directing, reviewing and controlling accurately in order to achieve identified goals.
   One of the most important tasks of this unit is the documentation of the systems, programs, executive, methods, instructions and optimal operation of the employees on the completion of this system.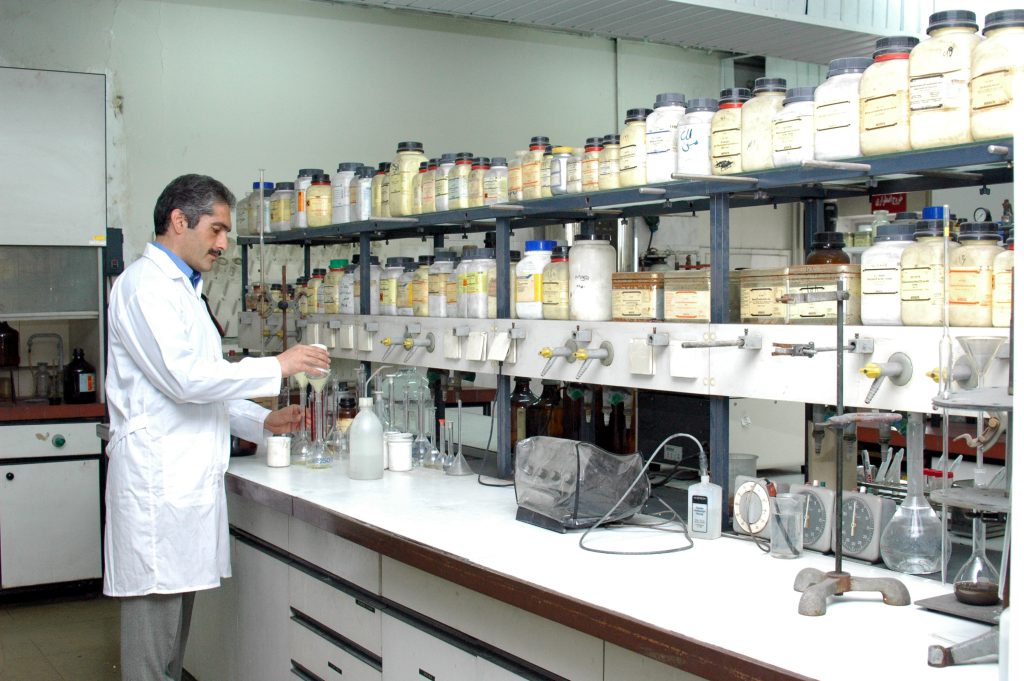 The quality assurance unit has the following subsets
1.Supervisor of statistical quality control
     This unit by collecting control of production process at anode workshops cast house and pot room, weighing and central laboratory, and producing statistical reports using different charts and comparing with authorized limits and standards daily and monthly, as well as providing indexes reports .
2. Responsible of quality Audit
     Responsibility for organizing and planning the internal audits in an assigned period, continuous consistency and submission of the final report  and referring to senior management (Chief executive officer CEO), holding the management meeting with senior managers and management representatives in an integrated management system (I.M.S) to improve processes for achieving to the desired outcome.  
3. Responsible of quality planning
This section is responsible for (IMS) documentation establishment of an integrated management system (IMS) at Iranian Aluminium Company (IRALCO).
    Iranian Aluminium Company (IRALCO) has created an integrated management system to use the latest managerial, scientific , technical and technological achievements in delivering high quality products, costs reduction, fixed price reduction protecting of environment and also protecting of human resources.
ISO 9001 Standard (quality management system)
   The requirements for the quality management system assigned in this international standard are supplementary for the requirements of the products. This international standard  can be used to assess the organization ability to meet customer requirements, laws and regulations for the product and requirements of the organization by internal and external parties.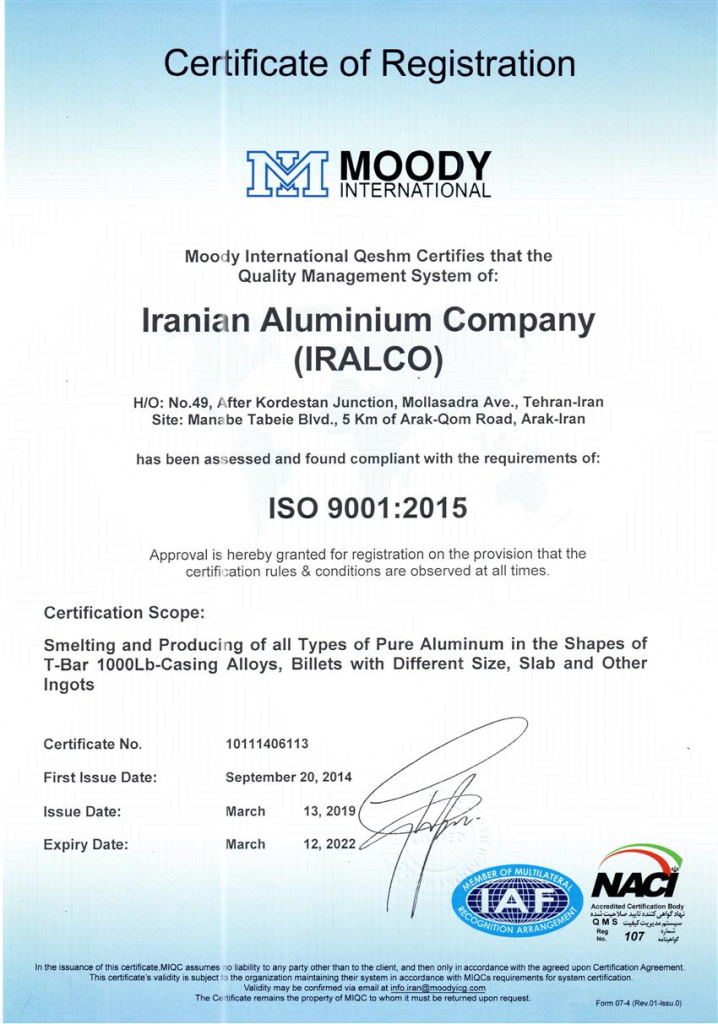 ISO 14001 Standard (Environmental Management System)
   This international standard meets the requirements of an environmental management system to empower the organization to develop and implement policies and objectives that meet legal requirements and information on outstanding environmental aspects and the overall purpose of this standard is to support environmental protection and pollution prevention.
Standard 18001 (Occupational Safety and Health Management System)
    This standard covers occupational safety and health management with the goal of integrating elements of an effective occupational safety and health management system to organization in order to integrate with other managements requirements and organizations to achieve the goals of occupational safety health and economic.